Eva Help Center
Hi there! How can we help you?
Frequently Asked Questions
You can get only reimbursement services (though our pricing solution will still be available to you if you choose to use it). All that's needed is the starter plan at $49/month.
We are aware that as a bookseller, you might need different features and strategies to forge ahead in the competition. Eva provides a lot of highly useful features for booksellers and some of the most popular ones are explained below.
Book Category-Specific Repricing Strategies
Eva pricing management works distinctively for booksellers as we are aware that the game in the book category is unlike any other.
Eva has condition-based pricing strategy for the SKUs in book category. She prices an SKU in book category by considering not only the competitors but also the price of the same book in all conditions as "new", "like new", "very good", "good", "accetable".

The same books in different conditions are priced interdependtly.
After evaluating all the competitiors and the price range of the same books in the same condition and in the other conditions, Eva makes the best and most strategic pricing decision.
In order to avoid any possible undersells, Eva does not lower the price of the SKUs in book category more than 5% in a day.
Eva practices SKUs-based pricing strategy in order to keep up with the competition for each and every SKU. Eva's AI-based technology takes into consideration a lot of variables.

If the sales velocity of an SKU is high, Eva does not hit rock bottom to sell the product. She keeps the price around the right spot for 1 to 15 days, depending on your BSR and the offers of other sellers, to sell the product at highest possible price to maximize your profit. If the book is not sold in this time course, Eva starts agrresive pricing strategy in oder to increase the sales and lower your inventory storage cost.
She evaluates your rank in BSR (Best Sellers Rank). Depending on your rank, she pratices a profit maximization pricing strategy for a certain while to sell your porduct at the highest possible price.
Scheduled Pricing
If there are shopworn books in your inventory, you might want to liquidate those books by decreasing the minimum price of each SKU gradually. However, it might be a toilsome task to keep up with each SKU. You can use Scheduled Pricing to automize the minimum price changes to liquidate your products.
It is possible to automize the decrease in minimum price on SKU-level with Eva's scheduler tool, which means you can reduce the minimum price of the SKU on a regular basis based on the determined percentage and duration.
To use this feature, go to the "Pricing Management" page and find the specific SKU for which you want to use "Scheduled Pricing".
Then, click on the "Update" button under the "Advanced Pricing Options" title.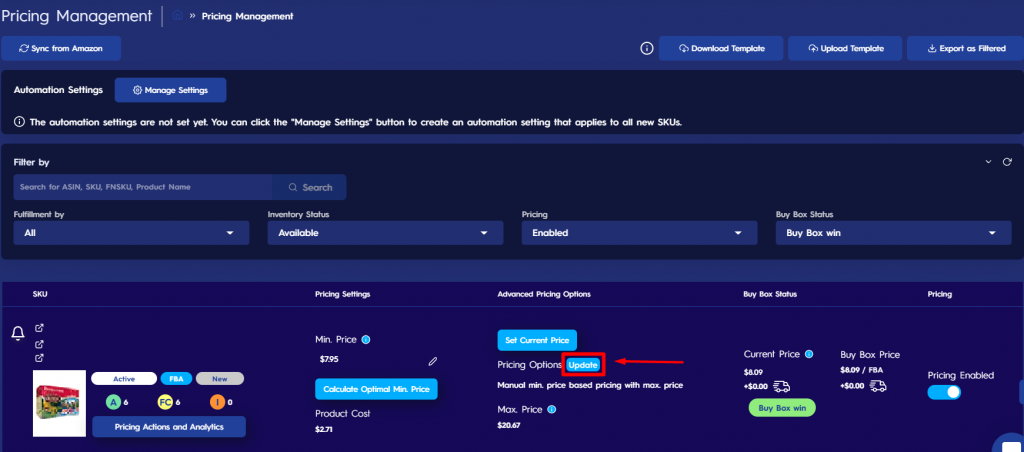 A pop-up screen will appear. There are three boxes; click on the "Set Scheduled Pricing" box. Please see Figure 2 below.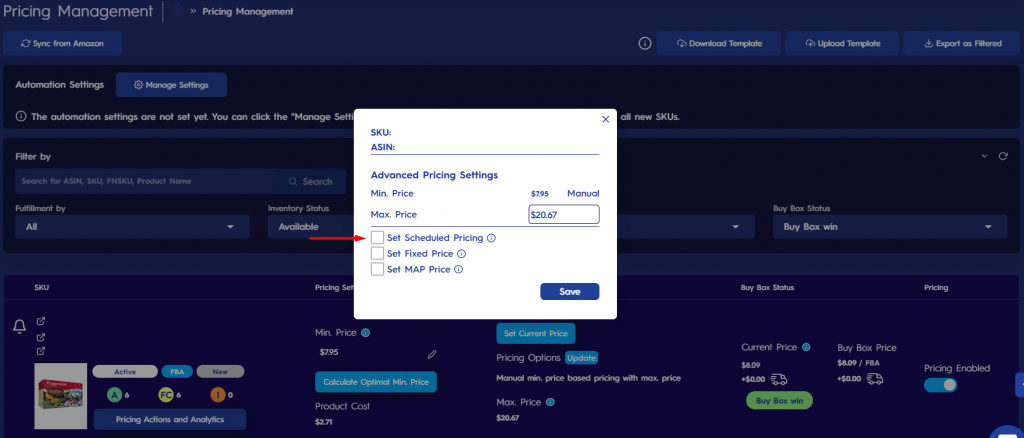 Once you click on the box, a new section will appear on the pop-up screen. In this part, you are required to fill in the "percentage" and "days" fields. Please see Figure 3 below. The default settings are "%20" and "7 days" for these fields, which means that the minimum price of the SKU will be 20% decreased every seven days.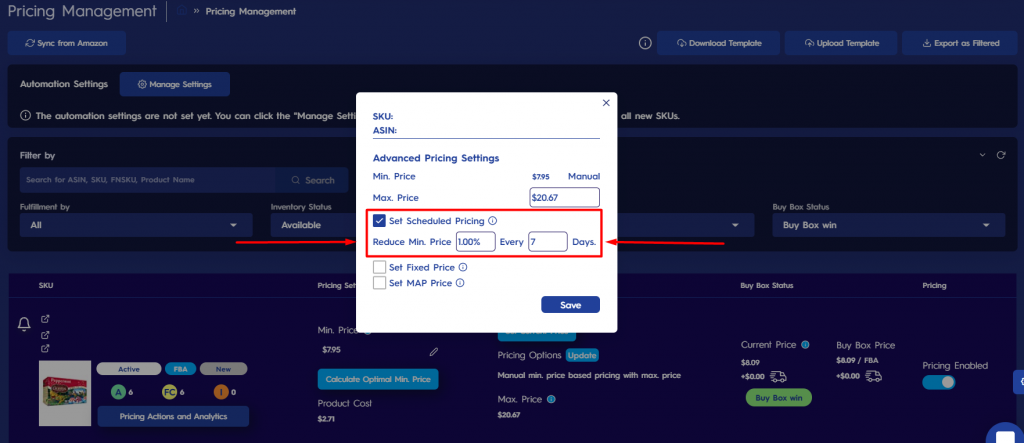 You can customize the settings according to your needs whenever you want. Once you finish making the necessary arrangements, click on "Save".
You will see an 'SP' icon for the SKUs that you see scheduled pricing. You can see the related explanation when you hover over the symbol. Please see Figure 4 below.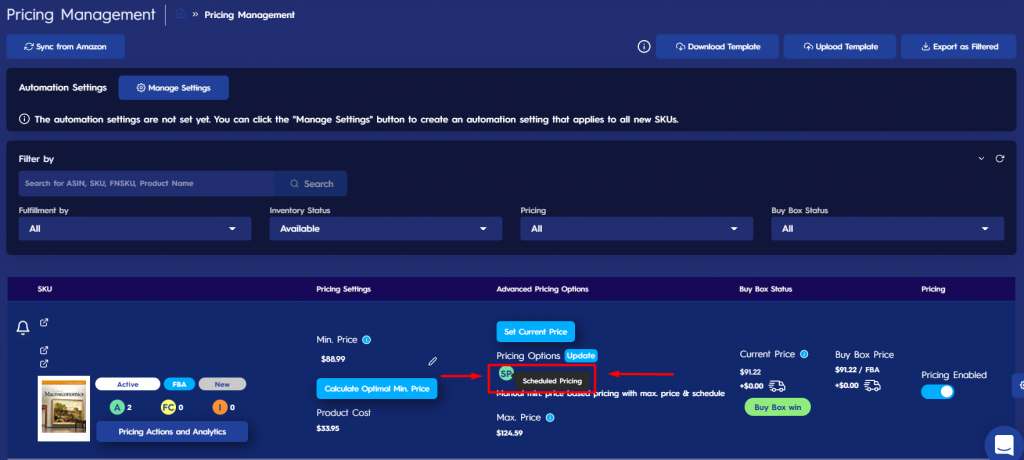 Please note that this setting will be automatically stopped when the minimum price decreases to the break-even point of the SKU.
Set Current Price
Sometimes, you might want to intervene and change the current price of an SKU manually while pricing management still works on Eva.

Instead of using Amazon Seller Central to change the current price, you can handle it on Eva.
To do so, go to the "Pricing Management" page and filter the SKU for which you want to change the current price.

Then, click on the "Set Current Price" button under the "Advanced Pricing Options" title. Please see Figure 5below.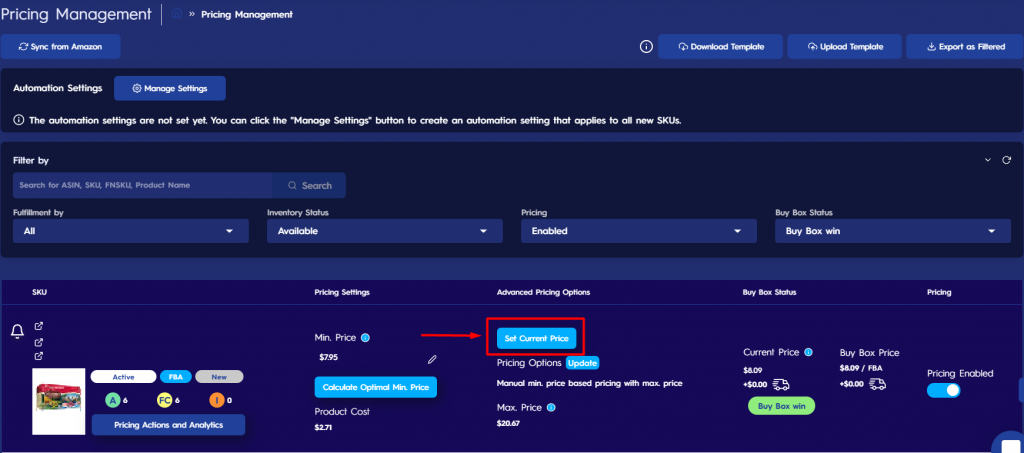 A pop-up screen will appear. On this screen enter the current price you determined for the chosen SKU. Please see Figure 6 below.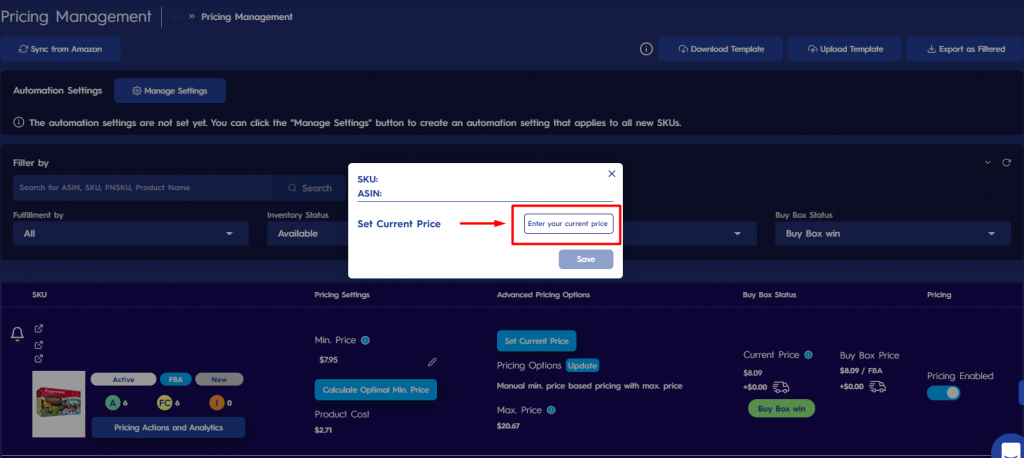 Enter your current price. Please note that the value you set has to be between the range of your min. and max price. In addition, if you use the "Fixed Price" option, you cannot "Set Current Price". After entering a value, click on "Save" button.

The current price will be applied directly and the price will continue pricing based on the current price you set.
Automation Settings
It is possible to set default values for the new SKUs on Eva. It might come in handy for the booksellers whose products are around the same price.
To manage automation settings, go to the pricing management page.
On the upper right side, there is a "Manage Settings" button. Please see Figure 7 below.
Once you click on the button, a pop-up screen will appear. There are two parts on this screen which respectively are "FBA Fee & Cost Settings" and "Default Values for the New SKUs".
To set default values, go to the related column. Please see Figure 8 below.

Enter "product cost", and use either "use target return based pricing" or "use manual min. price based pricing". If you choose to target return pricing based pricing, enter a value either for"Min ROI" or "Min. Margin". To change it, click on the switch icon in the middle. Please see arrow 1 in Figure 8 below.

Click on the toggle to enable pricing management. Please see arrow 2 in Figure 9 below.

After entering the values, click on "Save" button.
You can use our reimbursement services only by subscribing to our platform. We can take care of your reimbursement cases with a reimbursement fee of 16% of the successfully recovered amount.
"Settlement reports provide a detailed breakdown of a merchant's account activity for a given settlement period" as Amazon explained.
These reports give information about different types of fees Amazon charges and you can use this report to support your reconciliation processes. You should generate them regularly.
In order to give you more information and display your data on the charts, we simply ask you to request Settlement Reports from the Amazon Seller Central account, which takes only a couple of minutes.
When you delete an SKU from Seller Central, the listing on Eva will be updated to Deleted status and within 24-48 hours, that SKU will also be deleted from Eva.
We have listed the highest value packages on our website in order to make sure your time and profits are taken care of. Although, if for any reason you do not want to have the reimbursement service active alongside the analytics and repricing services you can use our communication channels to request a "Light" version of your payment package.
The mentioned packages are Starter Light, Essential Light or Growth Light whose prices are $29, $59 and $139 respectively.
Please note that if you apply for reimbursements while being a part of a "light" a 15% fee will be applied to every reimbursement claim.
Eva is an AI based repricer and she can read the market, competition and the status of your SKU and according to them. She makes sure that you are always getting the buy box while maximizing your profits. She considers 600+ criteria while repricing your SKU and finds the optimal sweet spot where you both have the buy box and making the most profit. She also takes your stocks into consideration so you never go Out of Stock and you can set Eva's aggressiveness with features like Buy Box Sharing on those SKUs that you wish Eva to be less aggressive.
Amazon is a very price-sensitive marketplace, therefore, using the right pricing strategies will substantially expand your ranking and sales amount. Your private label pricing approach and strategy have to be embraced according to this reality. Therefore, once you have decided your price for a product, most probably you will need to evaluate price alterations or repricing based on updates in your category and competitor's behavior. Indeed, you can make repricing manually, which is quite time-consuming, or you can start using EVA – which offers several different pricing solutions/strategies for your Private Label business on Amazon.
Demand/Trend/Seasonality Based pricing
Inventory Levels Based pricing
Sales Velocity Based pricing
Similar ASINs based pricing
Parent-Child relationship-based pricing
Demand-based pricing works based on the last 24 months of data and AI calculates the best price to maximize the profit for a given sales velocity.
Inventory-based pricing increases the price for a given inventory days threshold and once there is a shipment price goes back to the initial point and demand-based pricing starts.
Sales Velocity pricing automatically adapts prices (in a range between minimum and maximum price) to receive defined sales velocity target (number of units sold per day) based on historical data.
Similar ASINs based pricing allows you to both monitor and competes with similar products that might be a substitute for your product, even though these products have different ASINs.
Parent-Child pricing allows our customers to configure each of their Child ASIN's prices according to the Parent ASIN. Since many Amazon brands have many variations of a single ASIN, sometimes there is a need for different pricing solutions such as size, color and different batches.
So, at EVA we know that Private Label sellers have a specific need to find the correct price for their unique products. Our AI-powered solution will automatically calculate and set the correct price of your listings every 24 hours by using up to 30 days of price information. Eva does this by using built-inn supply and demand equilibrium pricing according to trends, sales velocity, and seasonality so your prices are always optimal. Doing that manually would require heavy and constant analysis! Furthermore, to make sure you always have products in stock, EVA can adjust the price to slow gradually you sales velocity when your inventory is low and help you stay in stock with your most profitable items. Meaning, not only can you have the best price for your product but also you are able to control how it behaves according to your needs with our multiple feature settings.
If you want to cancel your account, you can make a request on cancelation on Eva Platform.
To make a request:
Go to the "Settings" page
Use the "General" settings
Click the "Cancellation Request" button
Currently, this feature is only applicable for the following package types only:
Essential Light
Essential Plus
Growth Plus
For other package types, you need to communicate with us through other communication channels such as 24/7 Live Chat or e-mail.
We understand the importance of good data to grow your business. To help you make smart, data-based decisions we display the most important information about your business. One area that we focus on specifically is your profits because that is the money that you take home.
The Monthly Revenue caps in our plans refer to the amount of revenue that is generated through your Eva account. So we will not count any business that is not visible in Eva. Your package is calculated by your highest revenue month in the last 3 months.
You can connect multiple stores to your Account. There are three Amazon zones for marketplaces, Europe, North America, and Asia/Pacific. If you are adding a different marketplace for the same store, the first zone is free and the additional zones are $30/zone. Your package will be calculated based on the total revenue of all connected stores.
If you are adding an additional store, each additional store is $30/month and your package will be calculated based on the total revenue of all connected stores.
If you want you can also ask Eva Team to avoid competition between your stores as this will enable a friendly execution mode between the related stores.
If you are an agency adding multiple stores, you can benefit from the Eva Agency model, which has unique advantages for overall access to Eva and Reimbursements. Please approach our team via chat window if you are interested in Eva Agency Package.
Growing your Amazon business can be hard and sometimes you have lots of questions. In other situations, your team is handling the store and you want to make sure they have a dedicated point of contact. Our team has end-to-end Amazon store management experience so they provide accurate and detailed answers to your questions. 
We have documentation to help with most questions as well as 24/7 support available. It is our value to constantly improve our solution to be more intuitive and easy to use so that you are able to get all your Amazon Management needs done fast and efficiently. Please also reach out to us if you find anything complex or have thoughts on improvements – we are here to grow together.
You can have as many users per eva account as you would like. There is no extra charge for additional users.
Our algorithm adjusts automatically to booksellers so you never leave money on the table. Ignore the new sellers and long-time waiting ones.
Although taking pricing decisions in milliseconds by observing 600+ criteria, Eva reprices at Amazon's refresh rate which is 119 seconds. This makes Eva the fastest repricer on the market.
Real-time Repricing
Price Management
Sales Velocity based Strategies
Unlimited SKUs Listings
Sales & Profit Analytics
Reimbursement
19 Amazon Marketplaces
Unlimited Users 
24/7 Expert Support
Trend, Demand and Seasonality Based Repricing
Reliable – Our solutions will make sure you sell at the best price possible
Easy to Use – All features should be intuitive and improve your business
Actionable Analytics – Know your business and what decisions to make
Best in Class Support – Our support team is available 24/7 and passionate to help
Affordable – We want to help the most Amazon sellers while taking the least of their profits
Yes, you can pay annually and can save up to 30% by paying annually.
You'll get instant access to all of our features for a full 15 days. You'll be able try intelligent repricer, get access to reimbursement, advertising and sales & profit analytics and much more. When your trial period is over, you will never want to run your business without Eva.guru, not even for a day! You'll be prompted to select a paid plan and all your data, configurations and listings will remain intact.
No. There is no automatic subscription. If you don't activate a plan, the account will simply run out at the end of the trial.
After starting your reimbursement process, our experts will be contacting you within 24 hours asking you to add our experts as users to your Seller Central and grant permissions. After this process, our team starts conducting reimbursements cases for you and you can see them once you go to the Reimbursement Analytics page and scroll down. On that page, you can transparently monitor your cases and their details. If the reimbursement case is successful, Amazon will refund you the money. So, the money will be transferred to the bank account associated with your Amazon account.
On this chart, Reimbursement, Total Refund, Total Expense, and Total Profit data are extracted from the Settlement Report provided by Amazon. Amazon provides this report on a biweekly basis. So it is updated on Eva when Amazon provides this report, which might be the reason why there is a difference in the actual amount you calculated and the amount that Eva shows on this chart. You can see the last time that Amazon provided the store-specific Settlement report to Eva by hovering on the info icon on the upper right side of the chart. Please see Figure 1 below. 
Please note that Total sales, COGS, and Quantity data are updated every day since these data are not extracted from Settlement Report.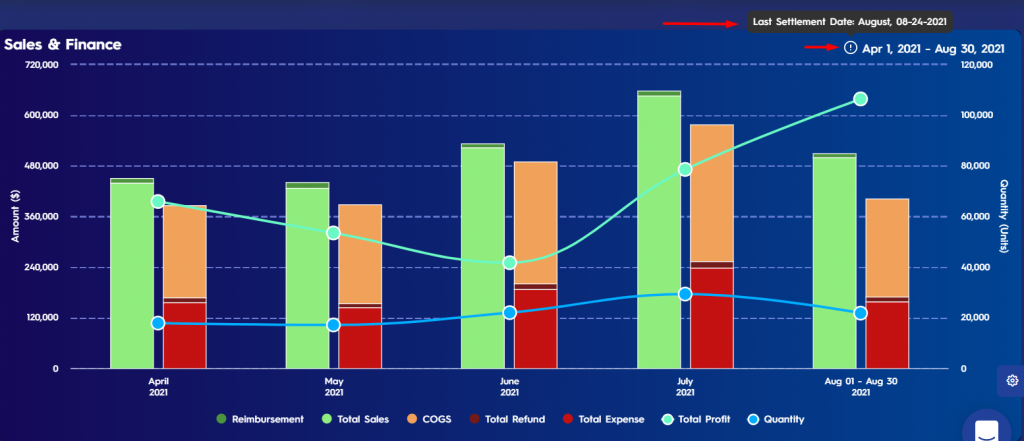 Eva Release Notes
What's new in the latest version of the Eva.
We keep improving to continue to serve you better all the time. Check out our new improvements and features below! 1- Update Payment Method You can now update your payment method freely from inside...
Do you need gain a better insight into Eva?
Request a demo call with Eva Experts now!