Year on Year Sales (YoY Sales)
YoY (Year over Year) Daily Sales allows Brands (Private Labels) to compare their sales to the same day the year before.
This chart allows you to analyse your sales and compare them detailly.

In this page, you can see your Previous Year Sales, This Year Sales and Last 30 Days Avg. Sales.
This feature is useful for users that want to compare and analyse their sales data according to the past years, important and special days.
For example, you can check your sales rates on Valentine's Day for both this year and the previous year and compare the data.
It is a two-axis chart and both are explained below.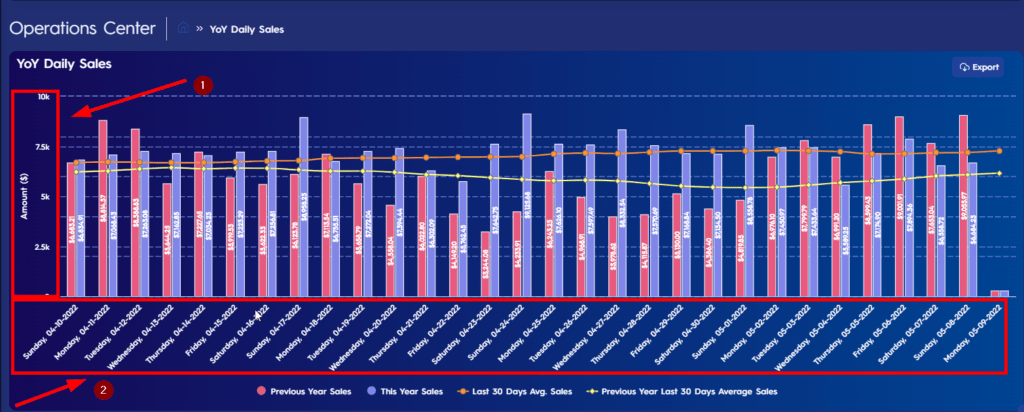 Axis 1: This axis displays the amount that you earned through your sales. Please see Arrow 1 in Figure 2 below.
Axis 2: This axis displays the historical data. Please see Arrow 2 in Figure 2 below.
In order to have access to your YoY Daily Sales, you must first hover to the Operations Center and then click on the YoY Daily Sales button.

Here, you will have all the access to YoY features.
If you click on one of the candles, you will have access to the menu that will open below.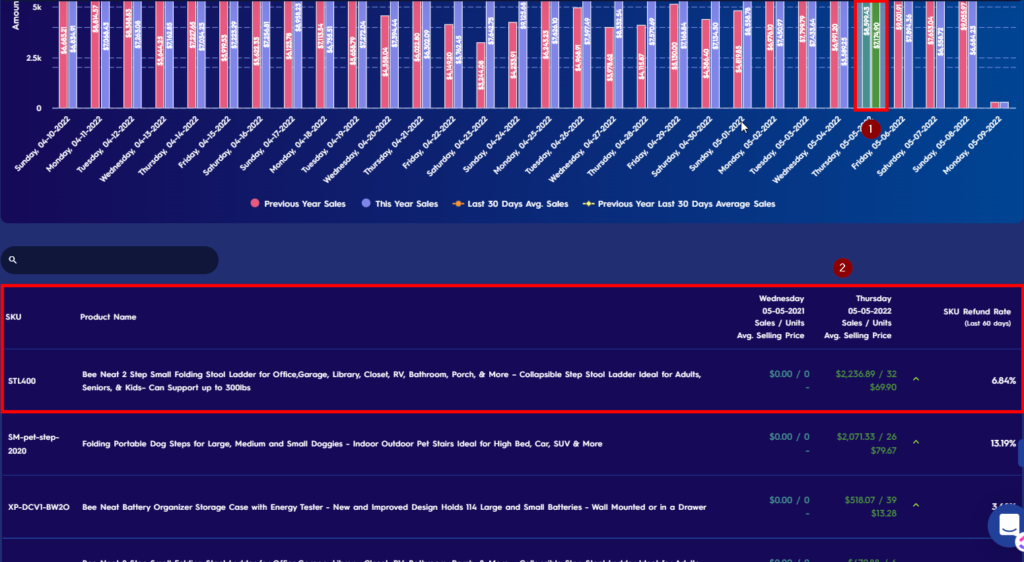 Here, you can see which SKUs you have enabled on that specific day, the sales rates and the refund rates of those SKUs.
If you want to search specific SKUs or other parameters, you can write them in the search box and click enter to apply your preferred filters.
Furthermore, clicking on those SKUs will redirect you to the Pricing Actions and Analytics page so that you can check all the detailed information about your SKU.
You can click here for more information about the Pricing Actions and Analytics page.
Need More Help? Let Our Team Guide You To Success!
Was This Article Helpful?