Business Price
The Business Price feature is for our customers who use Amazon Business. The feature helps you to reflect the prices on Eva to your business account. This way, when you have an active SKU both on Eva and Amazon Business, you will not have to change the price on Amazon Business because the pricing information will directly come from Eva. As Eva reprices your product, the price will also change on your business account. Also, you can adjust the price based on the current price and sent it as a business price accordingly. The setting is located in the Pricing Management> Store Level Settings> Other Pricing Settings (see screenshots).
Please note that Eva does not get B2B information such as discounts.
To use this feature, first, go to the Pricing Management page. See Figure 1.

Then, click on Store Level Settings. See Figure 2.

There, you can find the Business Price feature on the Other Pricing Settings tab. To enable the feature, you can switch the toggle and decide the custom confuguration and Eva will start reflecting your current prices to your Amazon Business account. See Figure 3.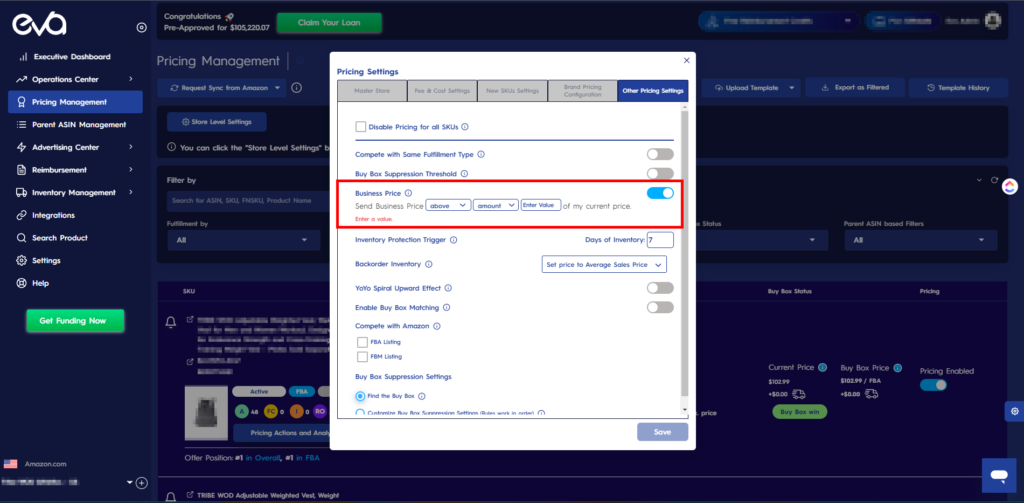 Need More Help? Let Our Team Guide You To Success!
Was This Article Helpful?