Eva's SKU Performance Card: Unlocking Insights for Product Analysis
Monitoring the performance of individual products is crucial for making informed decisions and optimizing sales. Eva's SKU Performance Card provides a comprehensive overview of your product's performance on Amazon. From sales and advertising metrics to inventory and profitability analysis, this powerful tool empowers you to delve deeper into product performance and make data-driven decisions. Let's explore the key features and benefits of Eva's SKU Performance Card.
Product Listing Page
On the product listing page, you can access important information at a glance. This includes details such as Fulfillment type, SKU status, ASIN, Product Name, Total Sales, Ad Sales, and Ad Spend, all based on the last 7 days. This overview provides a quick snapshot of the product's performance and helps identify areas that require attention. Once you click on Details you will have access to other related charts.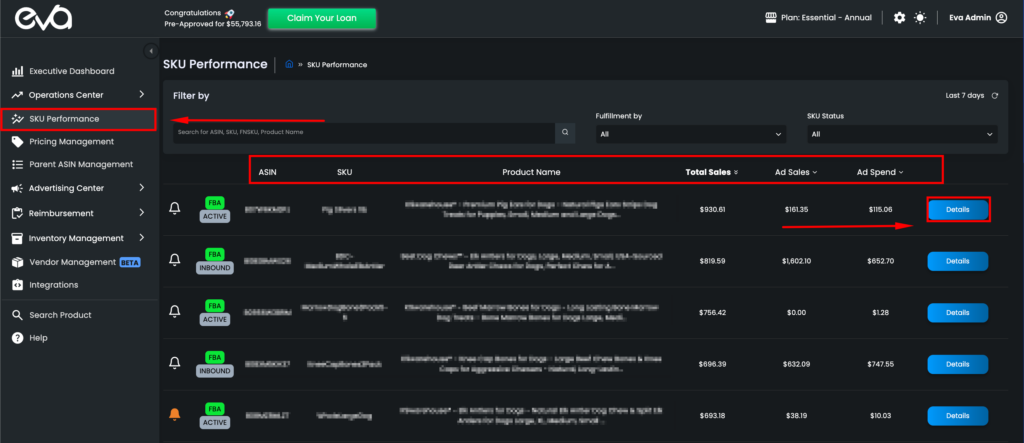 SKU Performance Details
For a more comprehensive analysis, you can dive into each product's details on the SKU Performance Details page. Here, a product info card displays crucial sales and spending information. The flexibility of date filtering options, ranging from the last 7 days to custom dates, allows sellers to analyze performance over specific time periods.

Eva's SKU Performance Card offers four exportable charts that provide deeper insights into various aspects of product performance:
Profit Analytics Chart
This chart enables you to gauge the profitability of your SKU by presenting total sales, total expenses, and units sold. It further breaks down metrics such as Units, Sales Amount, Shipping, Refund Amount, FBA Fees, Referral Fees, COGS, Adv. Spending, Total Expense, Net Profit, Margin, and ROI. You can analyze this data on a daily or weekly basis and export it for detailed analysis.

Traffic & Sales Chart
Understanding product visibility and customer engagement is vital for success. The Traffic & Sales Chart tracks key metrics, including total page views, total sessions, page views, sessions, BSR (Best Sellers Rank), and unit sessions. These insights shed light on customer behavior and provide valuable information for optimizing product visibility and driving sales.

Key Performance Metrics Chart
Utilizing advertising, and tracking the effectiveness of your campaigns is essential. The Key Performance Metrics Chart offers a breakdown of metrics such as Margin, ROI, ACoS (Advertising Cost of Sales), TACoS (Total Advertising Cost of Sales), and ROAS (Return on Advertising Spend). This information empowers you to refine your advertising strategies and maximize returns on investment.

Inventory, Reimbursement, Refund Chart
Maintaining optimal inventory levels and tracking reimbursements and refunds are critical aspects of successful selling. This chart provides visibility into inventory availability, FC (Fulfillment Center) transfers, and inbound stock. It also presents data on the reimbursed quantity, reimbursed amount, and total refunds, enabling you to manage your inventory and finances effectively.

With Eva's SKU Performance Card, you can unlock a deeper understanding of your product's performance and take your e-commerce success to new heights.
Need More Help? Let Our Team Guide You To Success!
Was This Article Helpful?