FBA Fee and Amazon Referral Fee
FBA Fee
FBA fees are fees that you pay on every order that Amazon packs and ships on your behalf. All the processes involved in order fulfillment have a certain charge. This includes picking, packing, and shipping your orders. It also includes post-purchase customer service as well as product returns. Fulfillment costs are determined by the size and weight of your item. They are also charged on a per-unit basis.
The amount of Amazon FBA shipping fees that you have to pay might vary depending on the size of your product, what state you are in and what kind of tax laws you have in your location.
To get more information about other Amazon Fee Programs, you can read our articles!
Amazon Referral Fee
A referral fee is the commission Amazon charges for letting sellers list their products on the marketplace. In other words, it is the fee that sellers have to pay for running Amazon stores. It is a per-unit fee that is charged on every product sold. Referral fees are the same regardless of business model and fulfillment methods. Amazon's commission rates differ depending on what product you sell and what category it falls under.
Eva receives these data from Amazon reports. You will be able to see your product level FBA fees and Amazon Referral Fees through Pricing Management > Calculate Optimal Min Price. See Figure 1 below.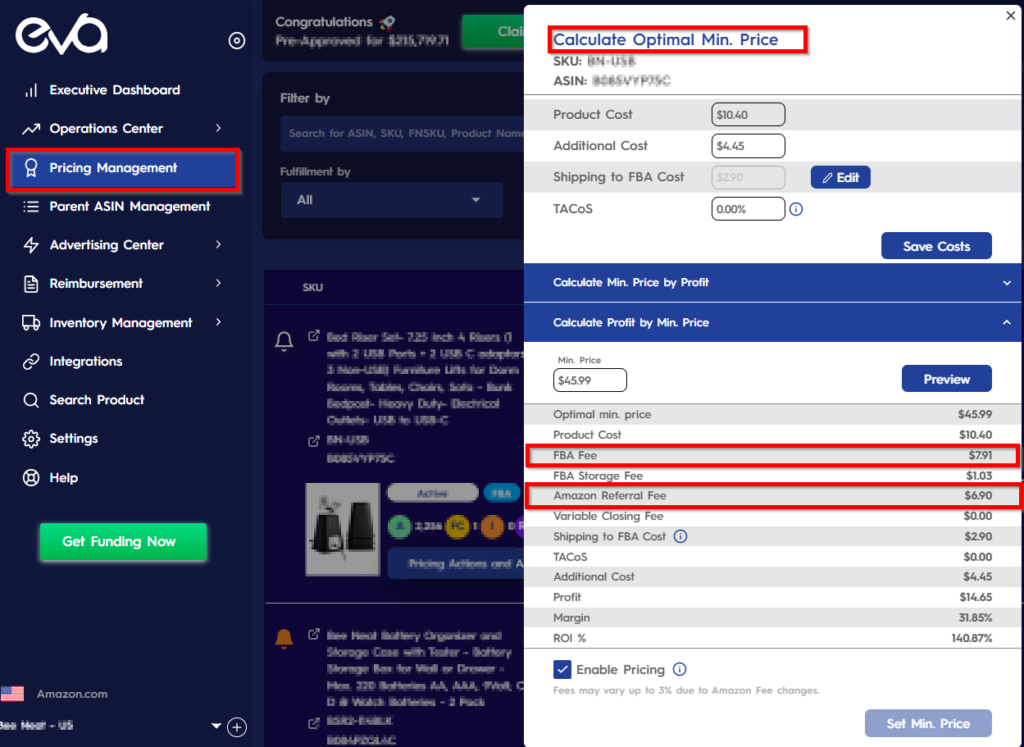 On a store level, Executive Dashboard > Expenses, Refunds & COGS section will display the FBA Fees as Amazon FBA Fee and the Amazon Referral fee as Amazon Selling Fee. See Figure 2 below.

Need More Help? Let Our Team Guide You To Success!
Was This Article Helpful?