European Fulfillment Network
If you have registered Amazon European Stored as FBA, the European Fulfillment Network (EFN) allows sellers to store their inventory in their local fulfillment center and by using the same local inventory pool, sellers may fulfill orders from other European stores and maximize their control and flexibility over their inventory.
Using Amazon's European Stores account, you can list FBA items for sale in any (or all) of Amazon's European stores (UK, Germany, France, Italy, Spain, Poland, Sweden, and the Netherlands). When an order comes in from one of these stores, Amazon will fulfill the order using the stock you have in your home store with EFN.
You can continue selling locally with a seller account opened directly on the local European store and send your inventory to an FBA center. From there, your orders will be filled. The benefit of doing this is that local, fast-track delivery alternatives will be available for the orders.
There is no separate registration process. If you use FBA in one store in Europe, you will automatically be able to use EFN in all other Amazon Europe stores through your Amazon Europe Stores account when your listings are uploaded to each store with the same SKU and converted to FBA in each store.
Eva provides these options to our users. You can choose the FBA program on pricing management > calculate optimal min price screen.
EU customers can choose whether they are enrolled in EFN (European Fulfillment Program) or PAN-EU. We'll be showing updated FBA Fees according to your program.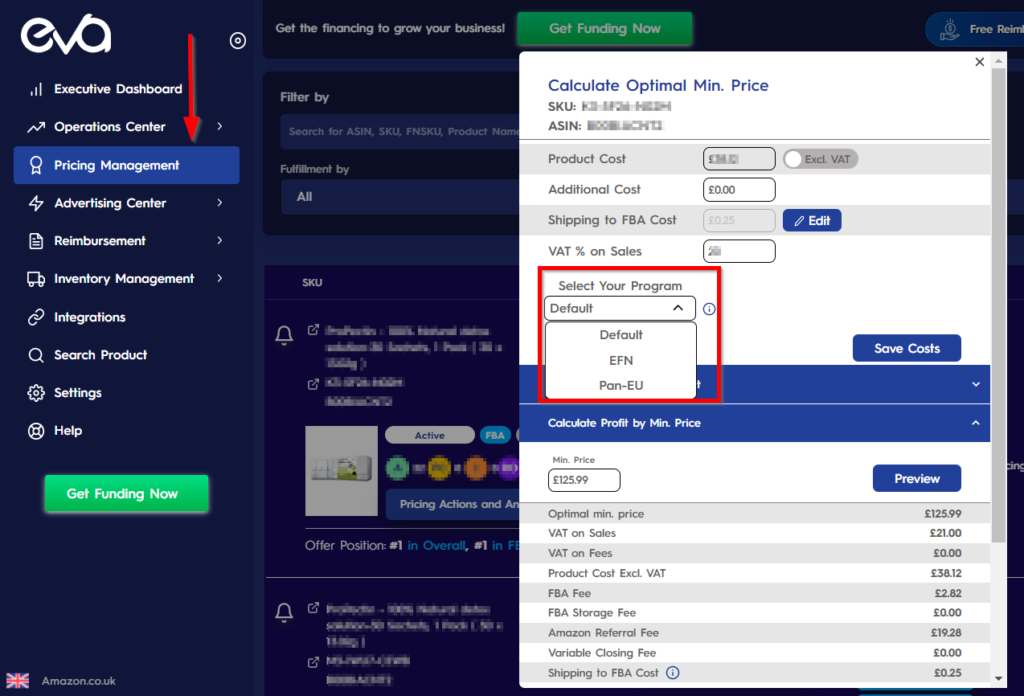 In default, if you don't choose any program, we can detect whether you are FBA or FBM and show standard FBA fees on the 'Calculate Optimal Min Price' screen.
However, If you are enrolled in another program, you can change the program and see FBA Fees accordingly.
There is no need to select where is your inventory placed on PAN-EU or in the Default program. However, if you are enrolled in EFN, you can select where your inventory is placed and click on Save Costs.
For example, inventory might be in DE and you might try to sell in the UK. See the example for this scenario below.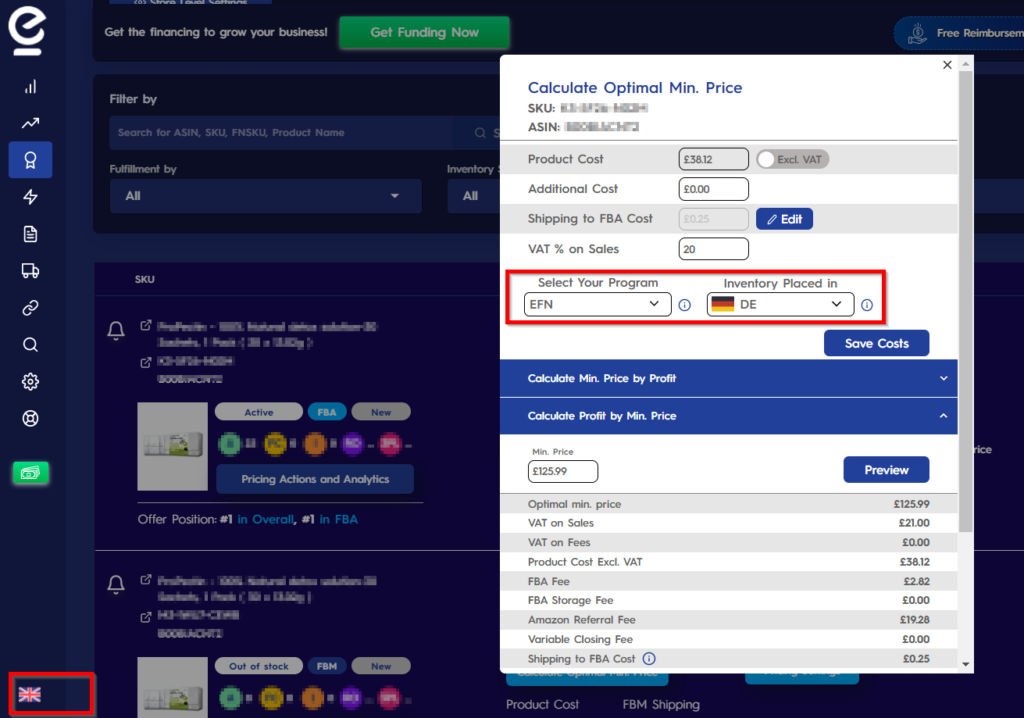 Once you select your program and inventory place in the market, your FBA prices will change accordingly.
You can enter your desired information in bulk as well. So you do not have to select these options one by one. What you have to do is click on the 'Request Template' button at the top of the Pricing Management page. Choose 'Pricing Template as Excel' or 'Pricing Template as CSV' and 'Download Template' once it is ready.
In the template, you can select the program and the marketplace for inventory.

Then you can 'Upload the Template' to our system and Eva will start working with your desired options.
Was This Article Helpful?