How to Enable Dynamic Repricer for an SKU
To calculate, set a minimum price, and enable dynamic repricer for your SKU, first go to the Pricing Management section on the left panel. After you reach Pricing Management, search for the SKU you want to set a minimum price in the search box. See Figure 1.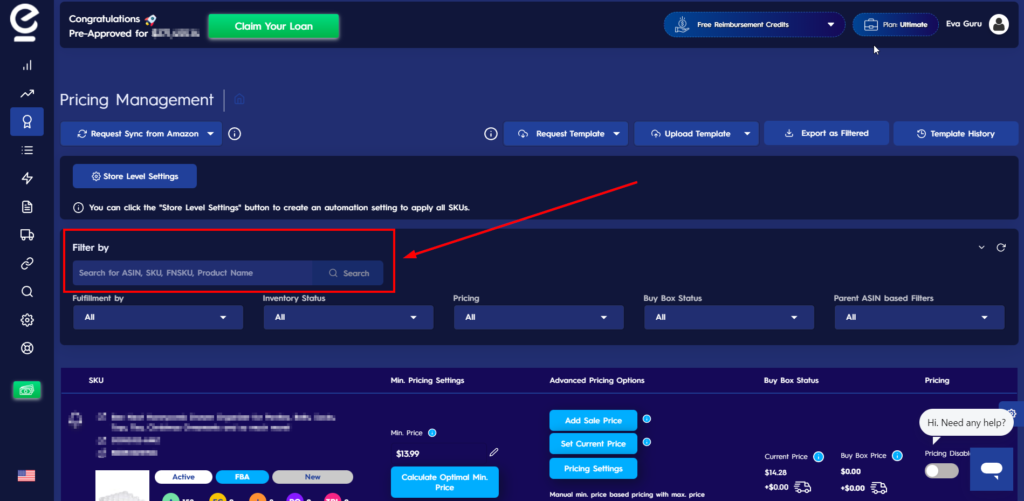 Click on the Calculate Optimal Min. Price button, and a pop-up screen will appear. See Figure 2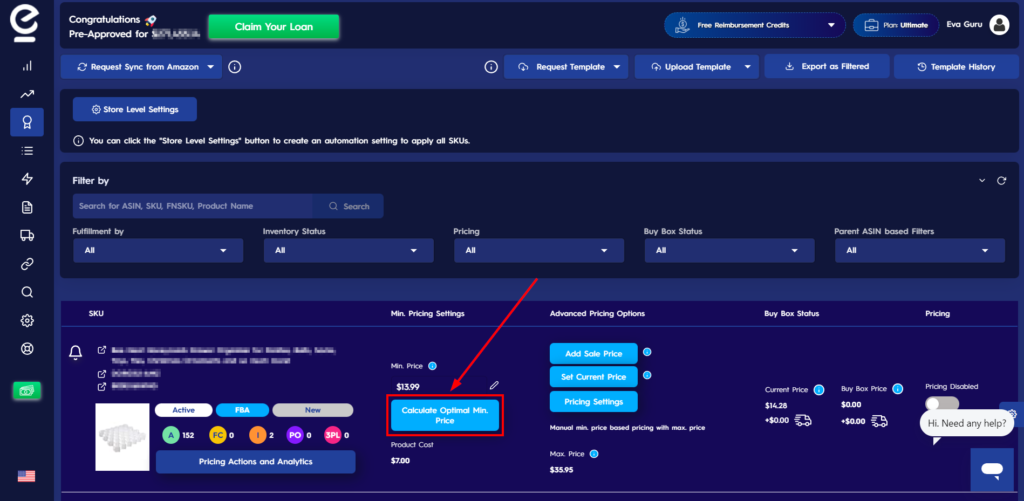 On Calculate Optimal Min. Price menu, you will see some editable boxes. Each box has different functions. First, you need to insert your Product Cost to determine a minimum price. Let's say our product cost is $15.00. See Figure 3.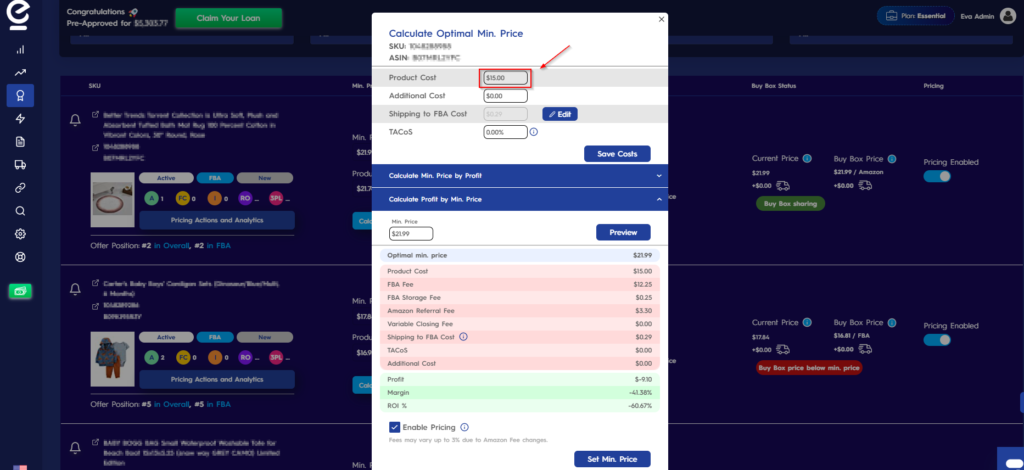 If you have any Additional Costs, you can insert the amount into the second box on the right-hand side. These costs shouldn't be related to your FBA fees as they are already gathered by Eva directly from Amazon's database.
You have three options to calculate your optimal price for the product.
The first way to calculate your optimum price is by Return on Investment (ROI). ROI stands for: The financial profitability of your product. It is the percentage between your product cost and your return from selling this product.
You should determine your ROI in percentage. In this way, you can calculate a price with desired return rate. Let's say you are willing to have a minimum of 30% ROI; you should insert desired value in the box named Min. ROI % on the left. (which is 30% in this example)
Please see the Min. ROI % box in Figure 4.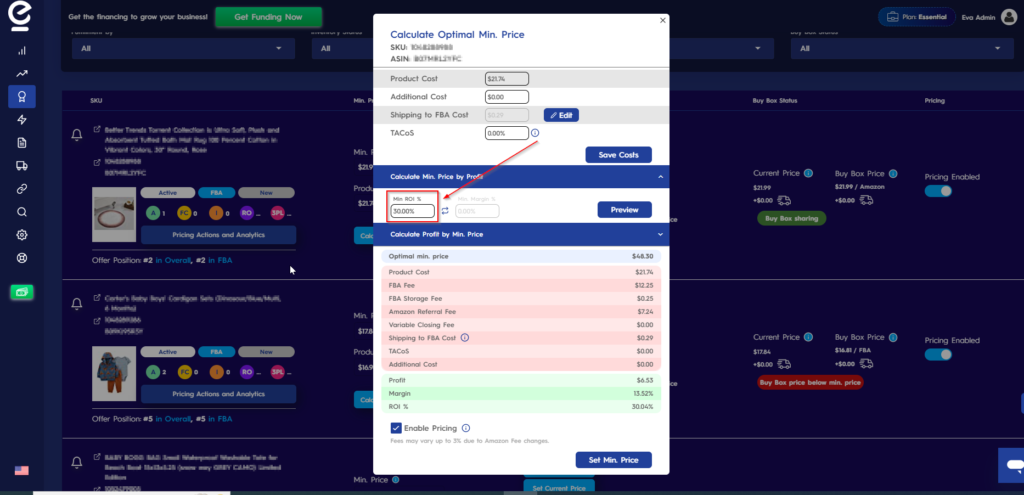 If you insert 30% and click the "Preview" button below, Eva will calculate the optimal price for your product including the Product Cost and the Amazon Fees. See Figure 5.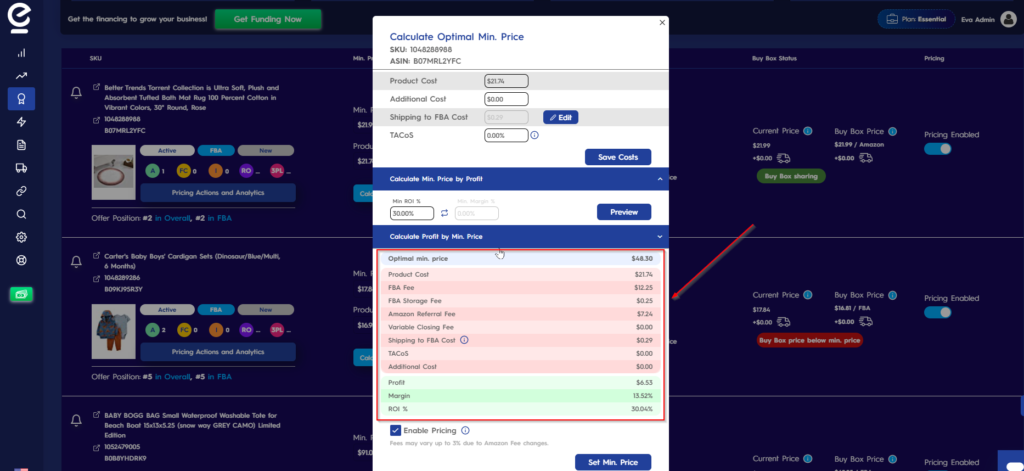 Also, you can calculate your min. price through your Margin percentage. Margin is expressed as a percentage, profit margin indicates how many cents of profit have been generated for each dollar of sale.
You can apply the same steps as ROI and Eva will calculate the optimal price for you as well.
To have a reverse engineering method and find out how much ROI and Margin you can get with a specific price, you can enter your preferred Min. Price to the section on the right and Eva will show you the ROI and Margin percentage for that amount and the Profit you can get by selling it at that price. See Figure 6.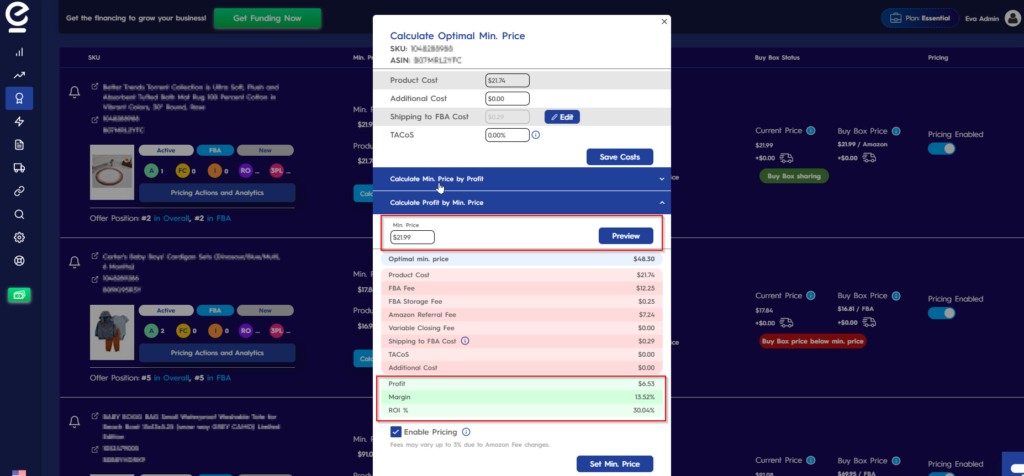 Tick the Enable Pricing box if you want to enable the repricer as soon as setting your min. price. Then, click on Set Min. Price to set the Optimal Min. Price calculated by Eva as your min. price. See Figure 7.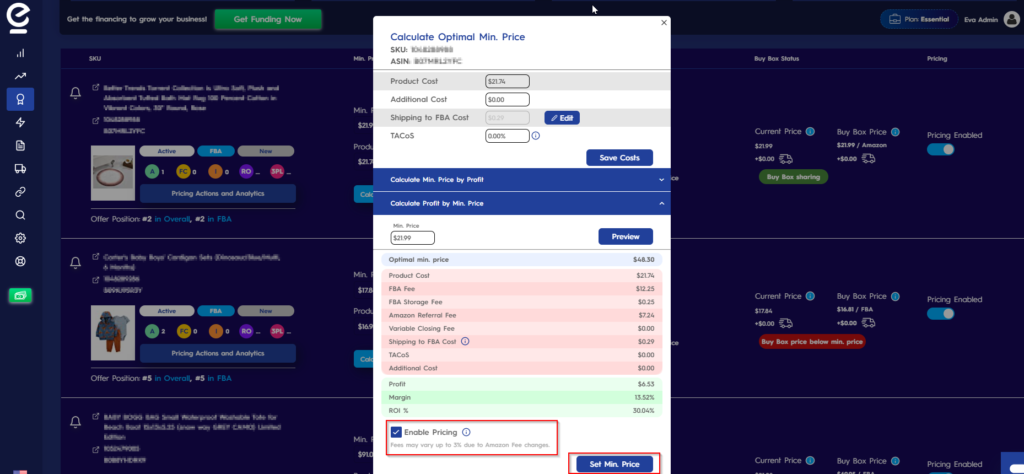 Once you enabled dynamic repricer, you will see a toggle called "Pricing Enabled" in the SKU Card shown below. See Figure 8.

Eva will start fetching all the data related to that SKU and you can analyze them in the Pricing Actions and Analytics Section.
Eva will start repricing products based on the competition and/or the sales velocity and then she will find the juiciest price for your product!
Need More Help? Let Our Team Guide You To Success!
Was This Article Helpful?