Eva Help Center
Hi there! How can we help you?
Frequently Asked Questions
You can get only reimbursement services (though our pricing solution will still be available to you if you choose to use it). All that's needed is the starter plan at $49/month.
Eva's AI-Powered Repricer refreshed your listing prices at Amazon refresh rate to make sure you always beat the competition. Smart, so you don't have to set a maximum price, worry about fees, or lose profits in price races to the bottom. It is easy to use and if you are unsure about product minimum price you can calculate using purchase price and desired ROI or Margins.
We know Private Labels want to focus their time on improving their Brand, not setting and constantly updating Amazon prices. Our AI-powered solution will automatically update the price of your listings so you sell at the optimal price. To make sure you always have products in-stock, we will adjust sales velocity when your inventory is low and help you stock your most profitable items first.
Eva's Reimbursement Membership allows you to access our reimbursement services. Our team of experts will make sure you get full reimbursements from Amazon for a 20% service fee. We will also audit your past 18 months to find possible reimbursement opportunities that were missed.
You can get only reimbursement services (though our pricing solution will still be available to you if you choose to use it). All that's needed is the starter plan at $24/month
We understand the importance of good data to grow your business. To help you make smart, data-based decisions we display the most important information about your business. One area that we focus on specifically is your profits because that is the money that you take home.
The Monthly Revenue caps in our plans refer to the amount of revenue that is generated through your Eva account. So we will not count any business that is not visible in Eva. Your package is calculated by your highest revenue month in the last 3 months.
The $500, $1000, or $6000 free reimbursement is a deduction from our reimbursement service fee. For example, you would not be billed for the first $500 worth of reimbursement services – after that, a 20% service fee will apply to reimbursements.
If you would like to connect more than one store to your account, you can connect unlimited instances of the same store for different marketplaces. Your total revenue and the total number of SKUs define your Software package.
If you are a Premium or Ultimate customer you can connect unlimited instances of the same store free of charge.
For other Software Plans; if the first marketplace of your store is an EU marketplace, all additional EU marketplaces will be free of charge. All additional marketplaces in UK, MX, CA, US will be $10/month for each store added. If the first marketplace of your store is not an EU marketplace, only the first added EU marketplace will be $10/month, other additional EU marketplaces will be free of charge. All additional marketplaces in UK, MX, CA, US will be $10/month for each store added.
If you are a customer and you connect any stores, the store will be converted to paid and your account will be automatically charged on the next billing cycle.
If you are adding additional stores that are not the instances of the same store, but other stores that are owned by the customer the same rules will apply. If you want you can also ask Eva Team to avoid competition between your stores as this will enable friendly execution mode between the related stores.
If you are an agency adding multiple stores, you can benefit from Eva Agency model, which has unique advantages for overall access to Eva and Reimbursements. Please approach our team via chat window if you are interested in Eva Agency Mode.
Growing your Amazon business can be hard and sometimes you have lots of questions. In other situations, your team is handling the store and you want to make sure they have a dedicated point of contact. Our team has end-to-end Amazon store management experience so they provide accurate and detailed answers to your questions. 
We have documentation to help with most questions as well as 24/7 support available. It is our value to constantly improve our solution to be more intuitive and easy to use so that you are able to get all your Amazon Management needs done fast and efficiently. Please also reach out to us if you find anything complex or have thoughts on improvements – we are here to grow together.
You can have as many users per eva account as you would like. There is no extra charge for additional users.
Our algorithm adjusts automatically to booksellers so you never leave money on the table. Ignore the new sellers and long-time waiting ones.
Eva reprices at the Amazon refresh rate so there is no way to reprice faster.
Real-time Repricing
Price Management
Sales Velocity based Strategies
Unlimited SKUs Listings
Sales & Profit Analytics
Reimbursement
19 Amazon Marketplaces
Unlimited Users
Expert Support
Reliable – Our solutions will make sure you sell at the best price possible
Easy to Use – All features should be intuitive and improve your business
Actionable Analytics – Know your business and what decisions to make
Best in Class Support – Our support team is available 24/7 and passionate to help
Affordable – We want to help the most Amazon sellers while taking the least of their profits
This is a question that we get sometimes but by and far it seems that most sellers do not want to pay annually. We trust our solutions so we do not offer any standard annual plans to lock in customers, however if you have a specific reason to pay annual please contact us and we will work with you.
You'll get instant access to all of our features for a full 15 days. You'll be able try intelligent repricer, get access to reimbursement, advertising and sales & profit analytics and much more. When your trial period is over, you will never want to run your business without Eva.guru, not even for a day! You'll be prompted to select a paid plan and all your data, configurations and listings will remain intact.
No. There is no automatic subscription. If you don't activate a plan, the account will simply run out at the end of the trial.
On this chart, Reimbursement, Total Refund, Total Expense, and Total Profit data are extracted from the Settlement Report provided by Amazon. Amazon provides this report on a periodical basis. So it is updated on Eva when Amazon provides this report, which might be the reason why there is a difference in the actual amount you calculated and the amount that Eva shows on this chart. You can see the last time that Amazon provided the store-specific Settlement report to Eva by hovering on the info icon on the upper right side of the chart. Please see Figure 1 below.
Please note that Total sales, COGS, and Quantity data are updated every day since these data are not extracted from Settlement Report.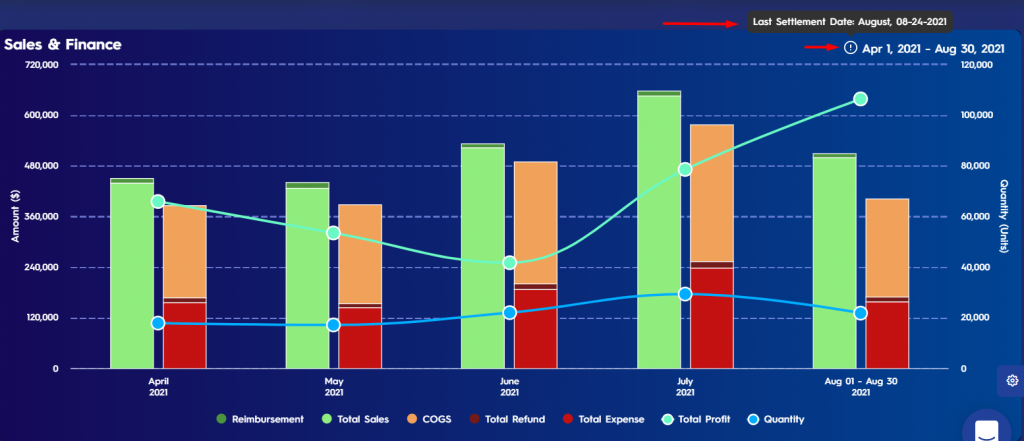 Do you need gain a better insight into Eva?
Schedule a demo call with the Head of Customer Adoption now!