Master and Slave Store Feature on Eva
You can connect multiple marketplaces to Eva. Once you connect your marketplaces, you can select one of your marketplaces as a master store. By choosing a master store, you will be able to transfer your main store's product and additional costs, min price, max price, fixed price, map price, shipping to FBA cost, and FBM shipping to your other marketplaces. For your min price, there are two options to calculate: Target Return Pricing which involves cost + ROI/ Margin, and Manual Min Price Based Pricing which involves desired custom minimum price value.
If you use manual pricing for min price, Eva will convert the coefficiency, for slave stores.
If you use target return pricing, Eva will convert the cost and then calculate your min price without using the coef.
This will affect only the SKUs that you have in both Master and Slave stores.

This will only apply if you have not set any previous values manually in the "slave" stores to give you the ability to choose to disregard specific SKUs. Other than that, Eva will convert the currencies between your marketplaces, accordingly.
This feature solves the problem of putting information such as cost, and min price into each marketplace by going over every SKU one by one. As an Amazon seller, you naturally might have different costs and minimum prices on each of your marketplaces according to their countries. Therefore, you can set Eva to transfer your price information more or less.
Settings:
You can find the feature by clicking on the Store Level Settings button on the Pricing Management tab. To navigate to such sections, please refer to Figures 1 and 2.


A pop-up screen will appear. On this pop-up screen, there is a Convert Master Store Currency field. For the marketplace you want to decrease or increase the price based on the master store, go and click on the checkbox. For the selected stores, you can decrease or increase the price by a certain percentage. Go and fill in the "percentage" field and choose Above or Below from the dropdown menu. Please refer to Figure 3.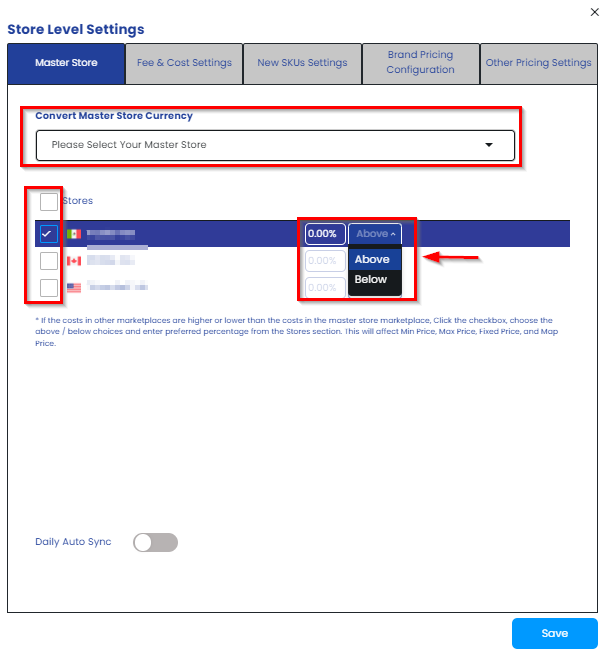 After configuring your information, you can save it by clicking on Save. Please refer to Figure 4.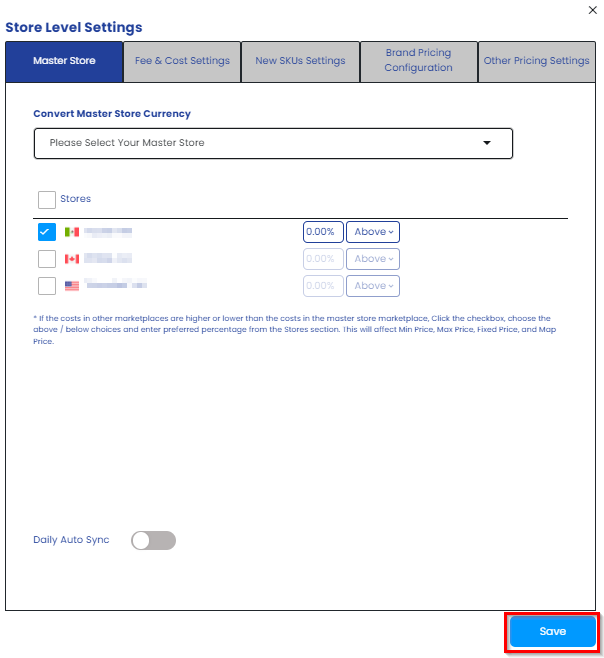 If you would like Eva to sync your master store's price information every day with your other marketplaces, you can toggle Daily Auto Sync. Please refer to Figure 5.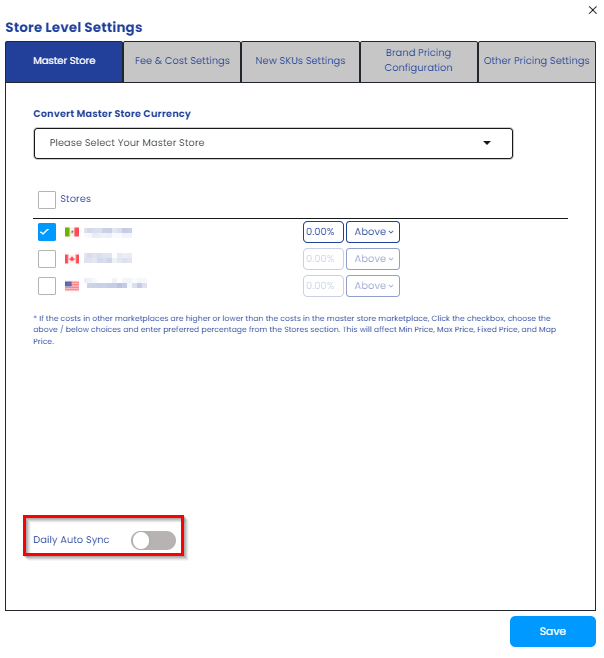 Need More Help? Let Our Team Guide You To Success!
Was This Article Helpful?