Buy Box Suppression
What is Buy Box suppression?
A suppressed Buy Box stands for taking out the Buy Box from a list of products. In this case, Amazon lets a customer choose from a list of sellers as there is no Buy Box winner.
How Eva can benefit you if Buy Box has been suppressed?
With our new Suppressed Buy Box feature, you can decide how you would like EVA to react in such scenarios. To decide how you want your SKUs to be repriced by EVA in the cases when there is no Buy Box option, go to Store Level Settings in the Pricing Management section. Please see Figure 1 below.

A pop-up screen will appear. On this pop-up screen, click on Other Pricing Settings. Please see Figure 2 below.

Click on Buy Box Suppression Settings and choose Customize Buy Box Suppression Settings. Please see Figure 3 below.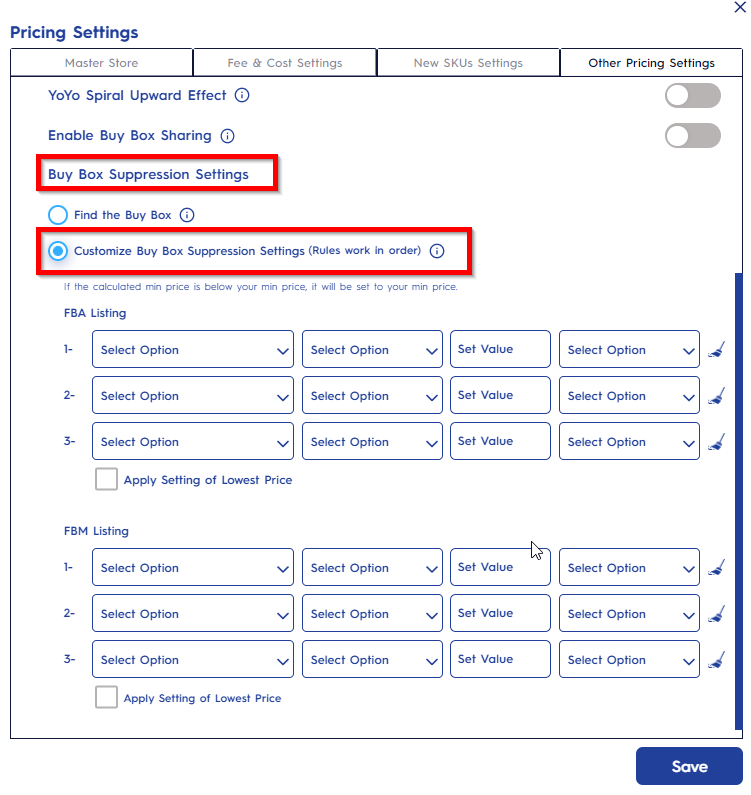 Settings are split between FBA Listing and FBM Listing. By scrolling down you can decide which of the below-mentioned filters you want to be applied for your FBA Listing. Please see Figure 4 below.

So, EVA will try in a specific order, which is modifiable, to set and complete those tasks, meaning that it will follow the lowest FBA, then the lowest FBM and at the end, if there is no other option she will set to the minimum price.
If you set "Apply Setting of Lowest Price" it will automatically select the lowest amount and apply that specific rule.
The same options apply to FBM Listings as well. Please see Figure 5 below.
Make sure you click on Save to set your desired settings. However, these settings are modifiable and if you change your mind, you always can edit one by clicking on the Broom icon.
Please note that all decisions taken here are Store level decisions and they will apply to all of your SKUs with Buy Box suppression. If the calculated minimum price is below your minimum price, it will be set to your min price.
Need More Help? Let Our Team Guide You To Success!
Was This Article Helpful?