Daily Target Velocity Pricing
You will now be able to set a target velocity for your SKUs allowing you to set an initial price that will increase every time your target sales velocity is reached during the day. The increases in price will be reset to your initial price every day at the start of the day at 00:00, according to your marketplace's time zone. This will protect your inventory and increase your profits by increasing your SKU's price gradually if the required velocity is reached.
This is for customers who want to protect their inventory or gain an advantage from the demand that a particular SKU has, resulting in profit maximization!
To reach this feature, first hover to the menu on the left side and click Pricing Management. See Figure 1.

Then, go to the Advanced Pricing Settings by clicking on the Pricing Options Update button on your preferred SKU's card. See Figure 2.

You can see the Target Velocity Pricing setting on the popup. See Figure 3.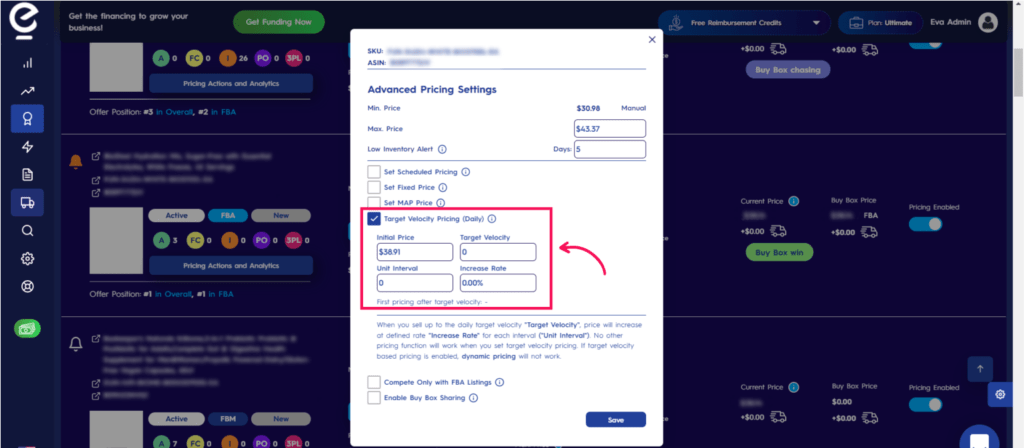 Initial Price is your starting point. This is where you enter the starting price of your product, the increase in the price will occur from this amount. Every day at the start of the day at 00:00 according to your marketplace's time zone, all of the pricing increases will be removed and the target velocity will start again from the initial price.

Target Velocity is your desired sales amount for a day. For example, if you enter 10 here, after reaching 10 sales per day, your desired target velocity will be reached.

Unit Interval is the interval amount on which the increase will occur after your initial target units are reached. For example, if you enter 3 here, for every 3 sales of units after the initial 10, your price will increase.

Increase Rate is the increase of the initial price in a percentage that you desire. For example, if you enter 10% here, your product's initial price will increase by 10% after the target velocity units and again after every number of sales determined in the Unit Interval section. The price will continue to rise after each trigger until it reaches the ceiling limit of your maximum price.
(Please note) that when you set the Target Velocity Pricing Option, some pricing options will not work including dynamic pricing, fixed price, current price, and MAP price.
Your initial price must also be above your minimum price in order to function.
Setting an "N" in the template for this feature will disregard all values shown and turn the feature off.
Make sure you are aware of your "Low Inventory Alert" as it will override this function in order to make sure you do not fully run out of stock.
Importantly, Target Sales Velocity can be activated only for available in-stock inventory. If your inventory is back ordered, settings applied in backorder inventory will override all other settings.
Was This Article Helpful?