Set Fixed Price
By setting a "Fixed Price", your price will be fixed to the desired amount until you disable the setting. To use this feature, click on the "Pricing Management" tab on the navigation panel of Eva. Please see Figure 1 below.

Click on the "Update" button on the SKU to open a pop-up labeled "Advanced Pricing Settings." Please see figure 2 below:

Click on the "Set Fixed Price" checkbox in the pop-up menu and enter your desired price in the "Set Fixed Price" field. Please see figure 3 below: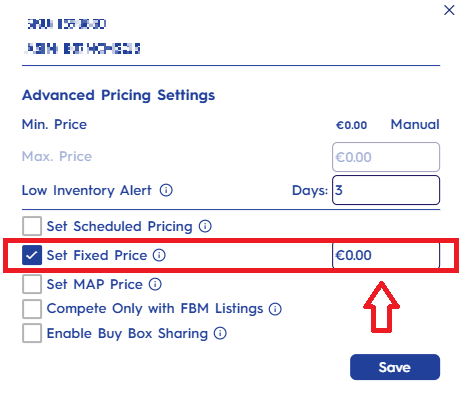 Please note that to keep getting data from Amazon, we change the price by ±1% every two days. After we have received the data from Amazon, EVA will set it back to the price you have previously entered.
Once you are done making your changes, make sure to click on the "Save" button to save your settings.
Was This Article Helpful?