How to Start Using Eva
What Eva is about?
EVA is the best way to keep all of your Amazon tools in one place. We combine teams of experts together with the latest technology to provide the highest profits and save you time so that you can focus on more important things. Make sure to book a demo with our Customer Success Team to make sure you can get the best out of all of the offered features and have a chance to ask your questions and have them answered in real-time.
Start Your Free Trial
To start using Eva, you need to click on the Start 15-Day Free Trial button at the right top of the page, https://eva.guru/ or https://help.eva.guru/. See Figure 1.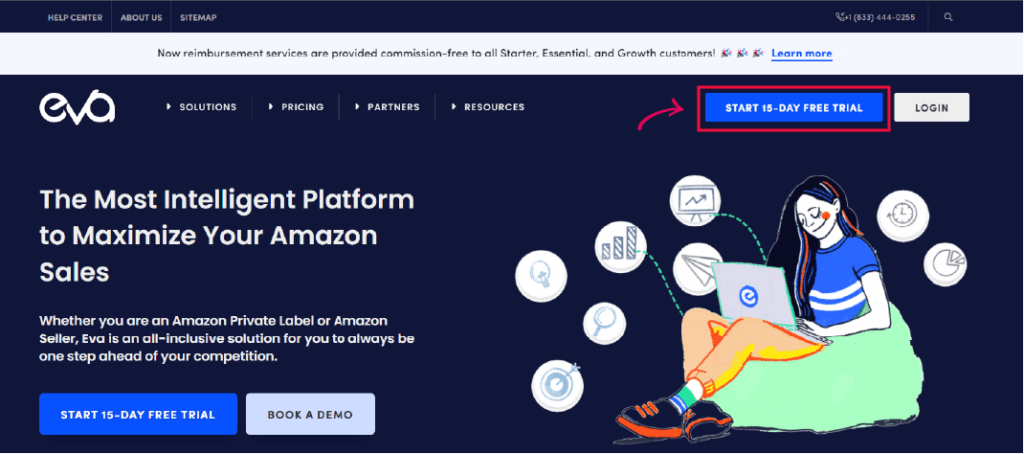 Create Your Eva Account
By clicking the button, you will be directed to the welcome page to create your Eva account. First, enter your Email Address, First Name, Last Name, and Password into the related fields and click on the Create Eva Account. See Figure 2.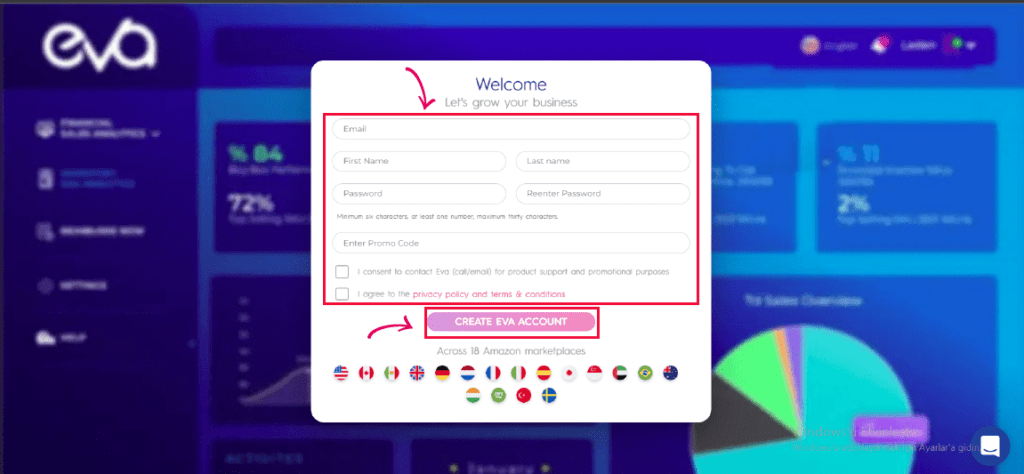 Once you finalize the process above, your Eva account will be created. You can link your Eva account to your Amazon account by following the steps below.
First, go to Eva homepage, enter your email address and password to the corresponding fields and click Login. See Figure 3.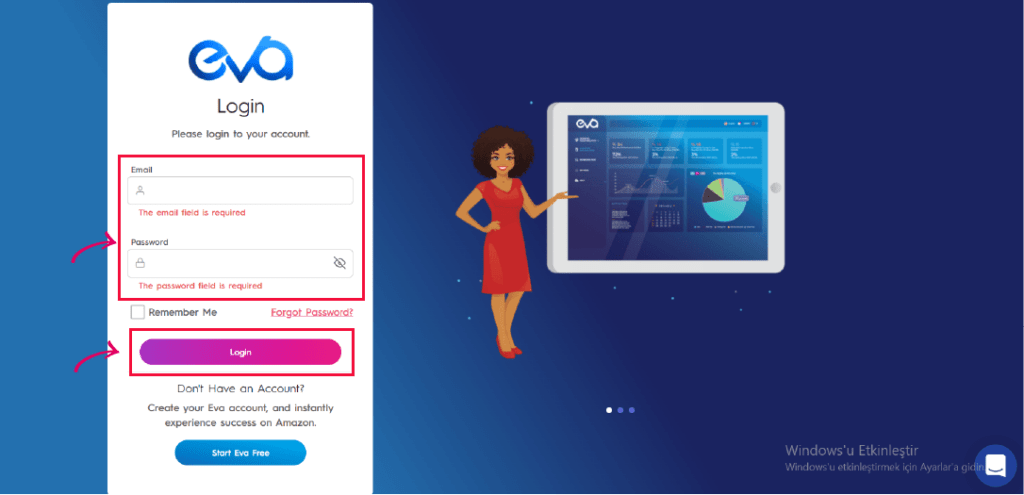 Once you are logged in, you are required to select your Time Zone, Primary Marketplace, and Seller Type respectively. Fill in the required fields and click Next. See Figure 4.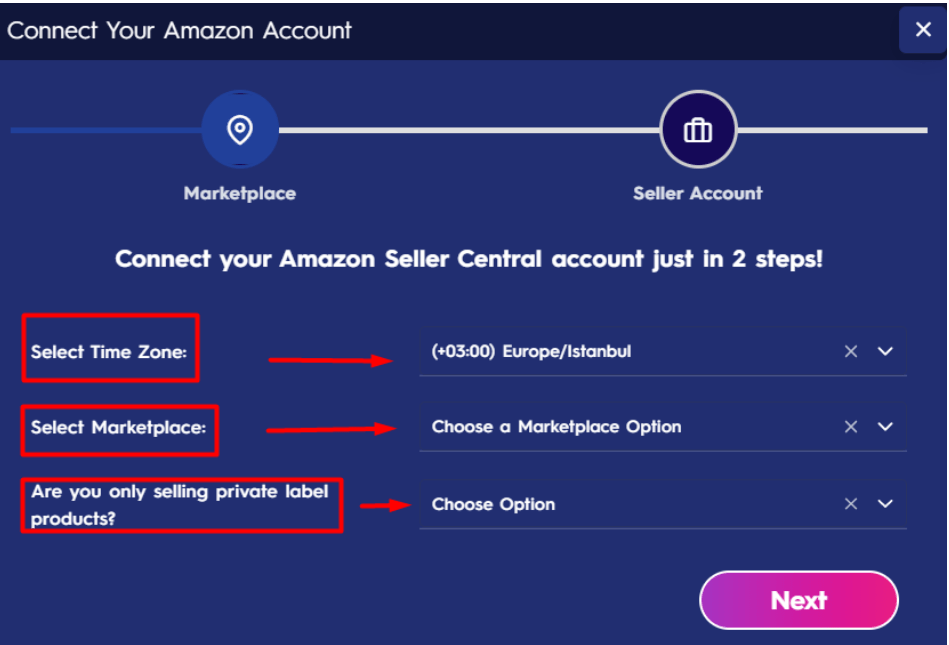 Please note that, if you have more than one marketplace, you can primarily connect your master store and add the other stores later. To learn more about how to add an additional marketplace, please follow the link.
On the next page, as the first step, you are required to log in to Seller Central. When you click on Login to Seller Central you will be directed to the Amazon Seller Central Homepage. On this page, Eva Developer Name and Eva Developer ID information are automatically filled in. If not, come back to the Eva page and copy Eva Developer Name and Eva Developer ID information and paste them to the corresponding fields on the Amazon page. See Figure 5.
On the same pop-up screen, you are required to enter your Amazon Seller ID and MWS Auth Token. Copy the related information from Amazon Seller Central and paste them into the related fields and click on the Connect button. See Figure 5.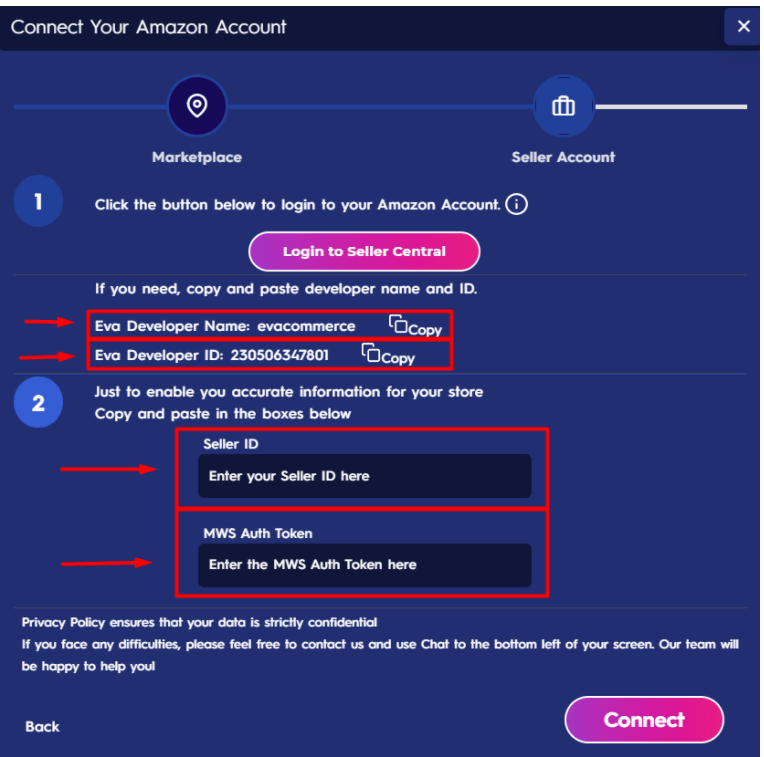 Your data will be downloaded from Amazon Seller Central, which takes generally between 4-6 hours depending on the size of your store, order quantity, and the number of SKUs in your listings. As a result, data sync might take longer than 6 hours in some cases. See Figure 6.

Once the download is completed, book a demo with our Customer Success Team through this link: https://go.oncehub.com/Eva-Book-a-Demo
I have created an account on Eva, what should I do now?
Importantly, once you have connected your store to Eva we highly suggest you do:
Open AI-Based Pricing and Set Your Minimum Price
Choose about 20 of your SKUs that you would like to test and enable our dynamic repricing on them. Dynamic repricing is activated once you define and set your minimum price. We believe that minimum price is a red line for each and every business so Eva is not coded to go below your minimum price. You can find details here:
Bulk Update
Add Your COGS and Minimum Price
Eva is all about numbers! Make sure to add your costs to be able to benefit from our in-depth profit analytics both at the store level and SKU level. Eva takes your costs on Amazon FBA Fees directly from Amazon so you do not need to worry about them. Just make sure that you have added your product cost and additional costs (if you have one).
How to Calculate and Set Minimum Price for SKU
Reimbursement Analysis
Eva has a team of reimbursement experts. Make sure to request the reimbursement service to be able to have us access your reimbursement claims and look at what we can do for you. You can review how to do this here.
Reimbursement Analytics
Was This Article Helpful?