How to Start Reimbursement?
To start your Reimbursement journey with Eva, you need to subscribe to Eva. We provide two options for this.
1. Subscribe to the Reimbursement Only Package
Login to Eva and click on the Start Monthly Plan button at the top left.
Select Eva Reimbursement Service and proceed to payment. This package will only include the reimbursements service which will cost only $1 + 15 % fee we charge for successfully reimbursed cases.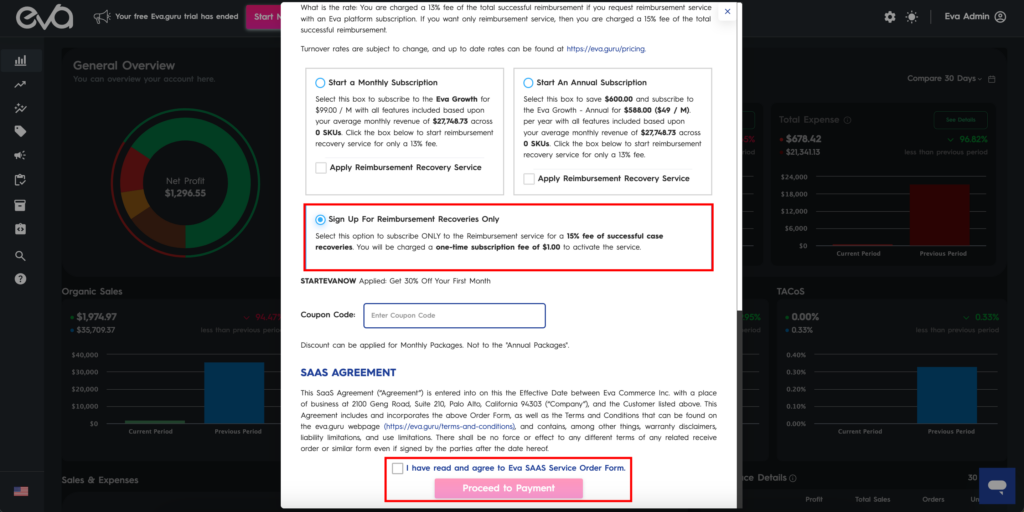 2. Subscribe to Eva Platform
Login to Eva and click on the Start Monthly Plan button at the top left.
Select Eva Eva Monthly/Annual Plan and proceed to payment. Subscription Eva includes the Reimbursement service and you will have full access to the platform. Your Package is calculated automatically based on your monthly revenue. See Figure 2 below.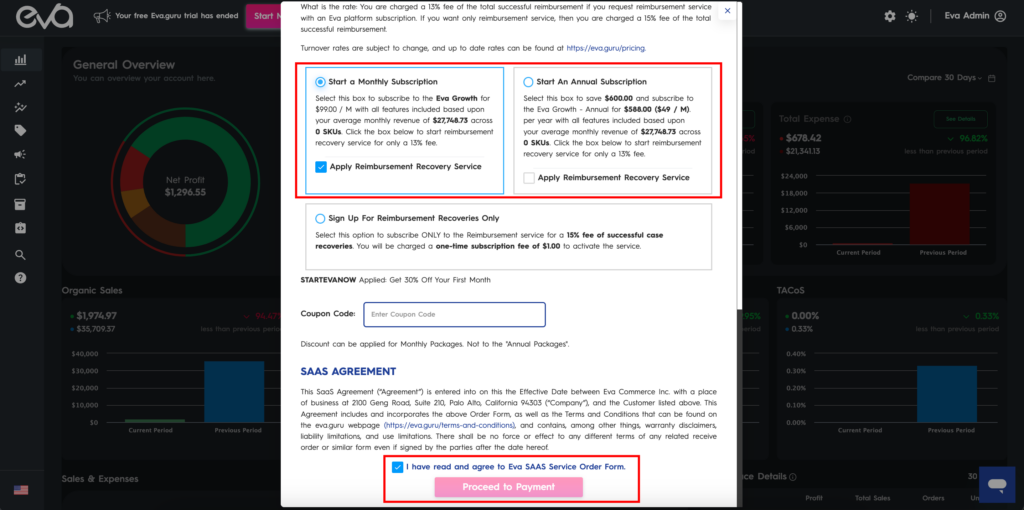 Start Reimbursement Now Button
After subscribing to the service, you will go to the Reimbursement page and click on Start Reimbursement Now button. See Figure 1 below.

After starting your reimbursement process, our experts will be contacting you within 24 hours via email. Asking you to add our experts as users to your Seller Central and grant permissions. After this process, our team starts conducting reimbursement cases for you. You can display the cases once you go to the Reimbursement Analytics page and scroll down. On that page, you can transparently monitor your cases and their details. See Figure 4 below.

If the reimbursement case is successful, Amazon will refund you the money. So, the money will be transferred to the bank account associated with your Amazon account.
Need More Help? Let Our Team Guide You To Success!
Was This Article Helpful?