Calculate Optimal Min Price
Eva Knows Best! Let Eva calculate the best prices for your products so you get more sales, more profit, and better listings.
You will need to input some information to calculate the optimal min price section and Eva will start working her magic. Here is what you should do:
Go to 'Pricing Management' and click on the button 'Calculate Optimal Min Price'.
Product Cost
In this section, you will be able to input your product cost which is required to calculate the best next price for your product and for Eva to calculate your profit accurately.
Additional Cost
If your product has additional costs that Eva should take into account while pricing, you can input that information to Eva.
Shipping to FBA Cost
We are getting this information from Amazon Settlement Reports directly.
TACoS
Total Advertising Cost of Sale measures advertising spending relative to the total revenue generated. If your Advertising Account is connected to Eva, she will analyze your data and give you a suggestion to input TACoS information.
However, regardless of connecting your advertising account to Eva, you can enter the percentage you want Eva to take into account while pricing your products.
Calculate Optimal Min Price by Profit
You can enter Min ROI or Min Margin for your profit. Eva will reprice your products according to the desired profit.
Calculate Profit by Min Price
You can also reverse calculate your product. You can enter desired min price which means the lowest price you would approve to sell that product, Eva will calculate the ROI, Margin, and Profit for the price you have put in.
Once you click on Save Costs and Preview Eva will calculate other parameters.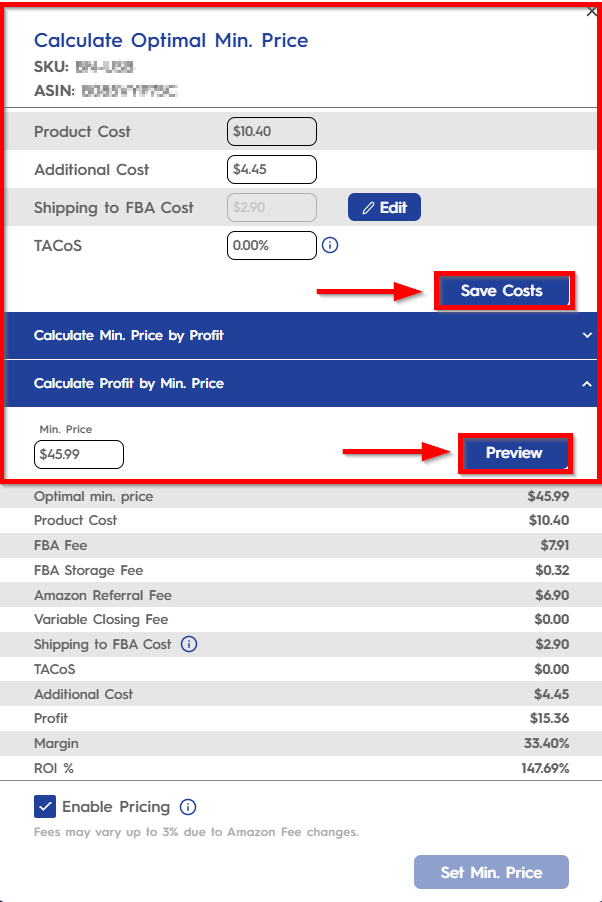 When you click on the Set Min Price button, all changes will be effective on Eva and she will start repricing.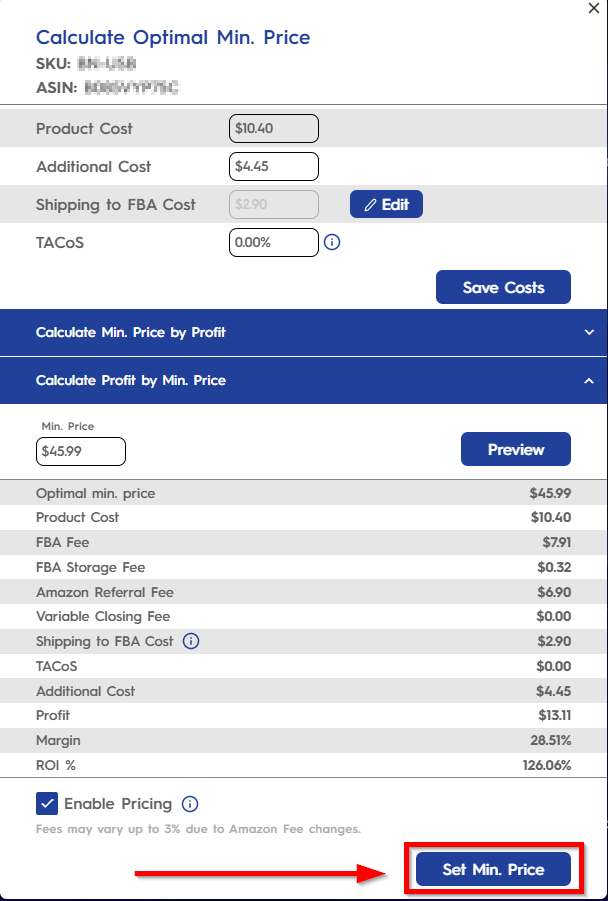 Need More Help? Let Our Team Guide You To Success!
Was This Article Helpful?